Almost 1M Ether would have been burnt in past year if fee proposal approved
The controversial Ethereum Improvement Proposal (EIP) 1559 would have burnt 970,000 Ether (ETH) — with a total value of $360 million — in the last year, if it had been implemented. EIP-1559 seeks to reduce transaction fees by introducing flat fees alongside a burn mechanism,
The findings, based on Dune Analytics data and published by the Head of DTC Capital Spencer Noon, have raised questions among some in the wider Ethereum community as to why the proposal has not been implemented already. Twitter user 'Laur Science' suggested it should be implemented in the next hard fork, adding:
"Hopefully, we don't keep discussing this for two more years while miners get too much $ETH and dump it for $USD, keeping the $ETH price in check."
Although the idea of burning fees has long been considered, even prior to Ethereum's genesis block in 2015, EIP-1559 was the first serious proposal to suggest integrating the concept into Ethereum's code.
The current proposal, first suggested way back in 2018 by Vitalik Buterin, would drastically change how transaction fees are calculated. EIP-1559 proposes that all transactions have a standard flat fee called a 'basefee'. This fee is burnt and the incentive for miners comes from users adding a 'tip' on top of the base fee.
The proposal allows the basefee to be varied to help keep block size around 10m gas. Ultimately, the proposal has four design goals — predictable fees, consistent blocksize, increased security, and preventing economic abstraction (fees being paid in other tokens).
As EIP-1559 will significantly impact how miners earn revenue it has triggered push-back from the mining community who have recently been enjoying record revenues. A week ago Messari stated that Ethereum fees have surpassed Bitcoin fees for a record breaking two months.
That same day ConsenSys developer Tim Beiko published the results of a survey of 25 teams building on Ethereum about the proposal. Of those surveyed, 60% responded in favour, however, eight of the nine mining firms queried asserted they would reject the proposal if implemented as a hard fork.
Earlier this year, Metamask lead developer Dan Finlay, expressed concern behind placing the responsibility on miners to fix the 'basefee' parameters. Ultimately, Finlay suggested the net effect of the proposal would be to make, "the tip a sort of single-price auction within each block that reproduces all the problems of the current market but with the additional complexity of this one".
Ethereum Name Service developer Nick Johnson, stated his apprehension of the proposal due "the lack of any formal analysis that shows 1559 behaves as intended."
In July, responding to ever increasing gas fees, Vitalik Buterin once again called on EIP-1559 as the ultimate solution.
Transaction fee revenue is now nearing half as high as block reward revenue. This actually risks making ethereum *less* secure because of https://t.co/Dase8SL30z. Fee market reform (ie. EIP 1559) fixes this; another reason why that EIP is important. pic.twitter.com/eqU3tAMh67

— vitalik.eth (@VitalikButerin) July 21, 2020
Within one month of Buterin's Tweet, total transaction fees for Ethereum passed that of Bitcoin (BTC) before taking a steep ascent to all-time highs. 
This is not the first time, EIPs have divided the Ethereum community due to malaligned goals. Last month, EIP-2878, which would reduce block rewards by 75%, was also criticised heavily by the mining community.
Analysts Think Ethereum Will Surge as Bitcoin Holds $13,000 Support
Ethereum has undergone a strong 10-15% rally over the past seven days that has brought it as high as $420.
The coin is expected to move towards $433 to "catch up" to Bitcoin.
Ethereum Expected to Surge As Bitcoin Holds Key Supports
Ethereum has undergone a strong 10-15% rally over the past seven days that has brought it as high as $420. The coin currently trades for $412 as it positions to move higher.
The strength in the price of ETH comes as Bitcoin has held the $13,000 support, which many feared would mark the top of the rally. Bitcoin currently trades for $13,150.
With BTC holding above $13,000, ETH is expected to move towards $433 to "catch up" to Bitcoin.
One analyst shared the chart below, showing that ETH will likely move to $433 before the weekend finishes, then continue towards the yearly highs at $490 by the end of the month.
Chart of ETH's price action over the past few weeks with an analysis by crypto trader Steve (@Thetradingtramp on Twitter). 
Source: ETHUSD from TradingView.com
Other analysts agree with this sentiment. One crypto-asset trader shared the chart below, showing that Ethereum's recent price action has allowed it to flip the $407 horizontal into support. This suggests that it will push towards the next important horizontal level at $445 in the days ahead.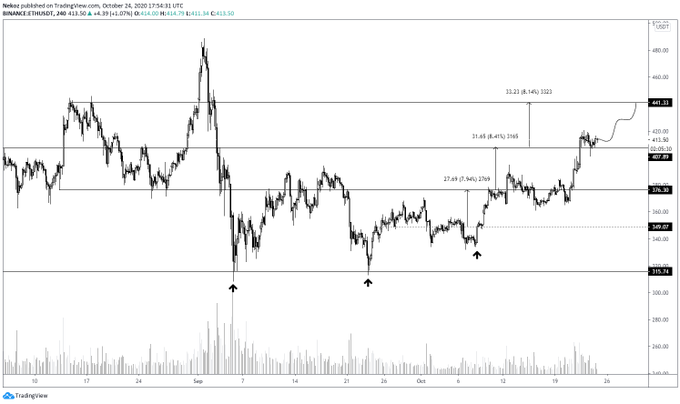 Chart of ETH's price action over the past few weeks with an analysis by crypto trader Nekoz (@CryptoNekoz on Twitter).  
Source: ETHUSD from TradingView.com
Ethereum Has Strong On-Chain Trends
Ethereum has decent on-chain trends that suggest the uptrend will persist in the days ahead.
Santiment, a blockchain analytics firm, shared the chart below just recently with the following comment:
"There is good news and bad news for #Ethereum's quest to again surpass the $420 price barrier. The good news is that miners aren't selling, and there is a big increase in new $ETH addresses being created, and pre-existing addresses have shown an increase in activity. The bad news is that social sentiment is bordering on euphoric territory, and daily active deposits have jumped in a big way."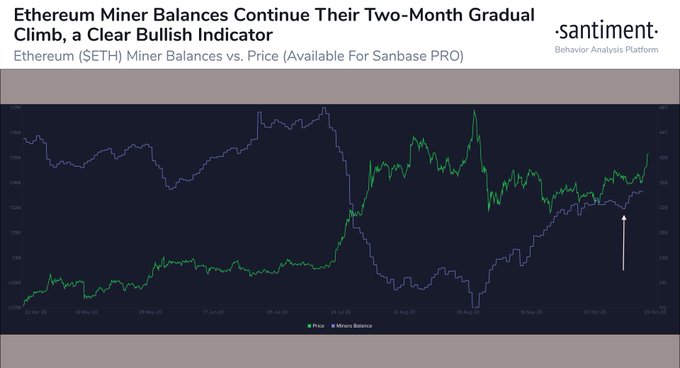 Chart of ETH's price action over the past few months with an overlay of miner balances. Chart from Santiment
As the company notes, there are a few reasons to be concerned, namely around Ethereum social sentiment and the number of daily active deposits to exchanges.
Bitcoin rallying higher would likely be enough to drive ETH higher in the days ahead, though.
Featured Image from Shutterstock
Price tags: ethusd, ethbtc, ethusdt, btcusd, btcusdt, xbtusd
Charts from TradingView.com
Analysts Think Ethereum Will Surge as Bitcoin Holds $13,000 Support
Ethereum Could Break Dramatically Higher Once It Holds $500
Ethereum has undergone a strong surge over recent days that has brought it from the $360 range to highs of $420. Analysts say that it will undergo a macro move higher once it manages to flip $500 into support.
Ethereum Set to Break Dramatically Higher Once It Holds $500: Analyst
The cryptocurrency is currently positioning to move higher as it holds the $390-400 region.
As reported by Bitcoinist previously, analysts say that if the coin manages to flip $420 into support, it is likely to move to $500. One crypto-asset analyst commented on the matter:
"Nice break above the $395 flat top on $ETH. ETH doesn't always give throwbacks, so a $395 throwback is certainly possible before higher, but I wouldn't be on it. Otherwise, this looks good for a run back near the $490 highs."
Should ETH flip $500 into support, analysts say it will be cleared to explode higher.
The chart below was shared on October 23rd. It suggests that should Ethereum manage to flip $500 into support, it will begin a rally to four digits on a macro basis. $500 is important because it is just shy of where the market topped during August's rally. Above $500, there is also little historical price action, indicating that the coin could enter "price discovery."
Commenting on the significance of the chart, the trader who made the chart wrote:
"Happy playing this relatively large range until I'm ready for a full swing. I'd want to see the mid point of this pivot zone acting as support to take it."
Chart of ETH's price action over the past few years with an analysis by crypto trader CJ (@irncrypt on Twitter).
Source: ETHUSD from TradingView.com
Fundamental Setback Regarding ETH2 
Ethereum is facing a setback though as reports indicate that the ETH2 upgrade may be pushed back.
In a comment first obtained by CoinDesk, Ethereum Foundation researcher Danny Ryan said that the deposit contract for the upgrade will not go live until an audit is completed:
"This library is critical to creating keys, signing messages. Critical, in early phases, [means] that if you use this library, they need to be secure; if you use it to generate your wallets, it needs to have good randomness; and if you are signing your deposits which have a signature associated, it needs to be correct," Ryan said. "Given that how critical this library is, and given that, if there is a fundamental error in this library we could f*ck some sh*t up in terms of genesis deposits, that is the blocker."
This audit could result in a delay until November, Ryan suggested.
Another Ethereum developer working on the upgrade said that once the deposit contract is released, there will likely be a 6-8 week gap between the release and ETH2 deployment.
Photo by Oz Seyrek on Unsplash
Price tags: ethusd, ethbtc
Charts from TradingView.com
Ethereum Could Break Dramatically Higher Once It Holds $500
Anonymous devs behind a DeFi yield farm could steal $1B in 12 hours
Harvest Finance, a decentralized finance project that succeeded in attracting over $1 billion in funds locked has an admin key that gives its holders the ability to mint tokens at will and steal users' funds.
As noted by auditing companies PeckShield and Haechi, the governance parameters are not set by a contract with clearly defined rules. An admin key, presumably held by the anonymous developers behind the project, could be used to arbitrarily mint new FARM tokens.
This power could allow the governance key holders to create an unlimited number of tokens and drain funds in the token's Uniswap pool, which currently holds $12 million in USDC.
Harvest Finance is an automated yield management system, featuring vault-based strategies similar to Yearn Finance. Haechi highlighted that in addition to the minting mechanics, the governance key holder has the ability to change the vault functionality at will, which could be exploited by submitting a bogus strategy that simply sends the funds to an attacker-controlled address.
The holders of the governance key would thus have the theoretical possibility of stealing all of the $1.05 billion in assets committed to the protocol, in addition to the funds in the Uniswap pool.
In response to the audits, the team introduced a 12 hour time lock that should give enough advanced warning to users if any foul play is detected — but that requires constant community vigilance.
The project is currently running a classical yield farm similar to many of the "food coins." Users can commit Ether (ETH), Wrapped Bitcoin (BTC) and other assets, but the highest FARM yield can be found by submitting FARM tokens themselves, without necessarily requiring the additional layer of abstraction of Uniswap pool tokens. Such a circular dependency is characteristic of many crypto Ponzi schemes.
The team is completely anonymous, though the project succeeded in attracting a relatively sizable community and has been involved in the community by doling out grants.
While nothing would suggest malicious intentions for now, the project is strongly centralized and prospective farmers should be aware that they are trusting an anonymous group of developers to resist the temptation to run off with their money, similarly to how the community initially trusted SushiSwap's founder.