Yearn Finance's founder says he 'doesn't build for speculators'
The founder of Yearn finance, Andre Cronje, has seen a fair share of criticism lately as he deployed some smart contracts that ended up losing people money. Cronje defended himself in a blog post and explained why he believes he shouldn't be held responsible for those who "ape in" his testing contracts.
Cronje will often place large disclaimers urging people to treat them with caution and not just go in because he built it. Little can be done to prevent this, given the permissionless nature of these products. Nevertheless, Cronje was sometimes criticized for not deploying contracts on testnets, where no real money could be lost. His "I test in prod" adage also turns some people away, as it seems to imply a careless attitude toward security.
Cronje explained that he does in fact test software in multiple stages. "[The statement] exists to deter people from just using systems without investigation. It does NOT mean that I don't test," he wrote.
Before a contract makes it to the mainnet, it goes through a rigorous process of unit, interaction and composite testing. These make sure that each part of the contract is working as intended, down to individual functions.
However, a key part of that process is testing in production to achieve the most realistic conditions. He explained that the mainnet provides the best possible tools and conditions, which cannot easily be replicated locally. "I have discovered issues on mainnet I never encountered locally, I have failed to replicate mainnet systems locally, and I have encountered errors locally that I can't replicate on mainnet," he explained.
Furthermore, there are many versions of existing products like Yearn Finance that were deployed to mainnet without getting discovered. "There are over ~22 'yearns' on ETH mainnet. There are over ~5 'YFIs' on ETH mainnet," he added. In a conversation with Cointelegraph, Cronje said that the reason why his primary projects were never hacked was, "ironically, because I test in prod." With this approach he says he is able to iterate over the real issues that come up, instead of relying on auditors to review pre-production code. "And if people just wait till I actually launch the product, all will be fine," he added.
One case of people getting burned on Cronje's smart contracts involved one of these testing playgrounds, which were still at least a few weeks away from public release.
Addressing these issues, Cronje noted, "I don't build for speculators." While he said that he could not rationally understand the people who rushed into his test environments, he seems to have conceded that a more pragmatic approach may be needed. "I have more thinking to do on this," he concluded.
In the meantime, he pledged to not use his well-known deployer address to conduct further tests. Given the number of previous contracts that went undiscovered, this may be enough to prevent further unfortunate occurrences.
The post follows another instance of people losing money over one of his contracts, an unnamed project often referred to by its token ticker, LBI. The contract was deployed on mainnet on Oct. 13, immediately triggering a torrent of people putting their money in it — often saying that it's "the new YFI."
The token's price fell immediately after, with many stories of people losing small fortunes over it. A barrage of criticism against Cronje was levied by many market participants, blaming him for the loss. It's worth noting that this price decline was not the result of any kind of malfunction, as the contracts themselves were not compromised.
Analysts Think Ethereum Will Surge as Bitcoin Holds $13,000 Support
Ethereum has undergone a strong 10-15% rally over the past seven days that has brought it as high as $420.
The coin is expected to move towards $433 to "catch up" to Bitcoin.
Ethereum Expected to Surge As Bitcoin Holds Key Supports
Ethereum has undergone a strong 10-15% rally over the past seven days that has brought it as high as $420. The coin currently trades for $412 as it positions to move higher.
The strength in the price of ETH comes as Bitcoin has held the $13,000 support, which many feared would mark the top of the rally. Bitcoin currently trades for $13,150.
With BTC holding above $13,000, ETH is expected to move towards $433 to "catch up" to Bitcoin.
One analyst shared the chart below, showing that ETH will likely move to $433 before the weekend finishes, then continue towards the yearly highs at $490 by the end of the month.
Chart of ETH's price action over the past few weeks with an analysis by crypto trader Steve (@Thetradingtramp on Twitter). 
Source: ETHUSD from TradingView.com
Other analysts agree with this sentiment. One crypto-asset trader shared the chart below, showing that Ethereum's recent price action has allowed it to flip the $407 horizontal into support. This suggests that it will push towards the next important horizontal level at $445 in the days ahead.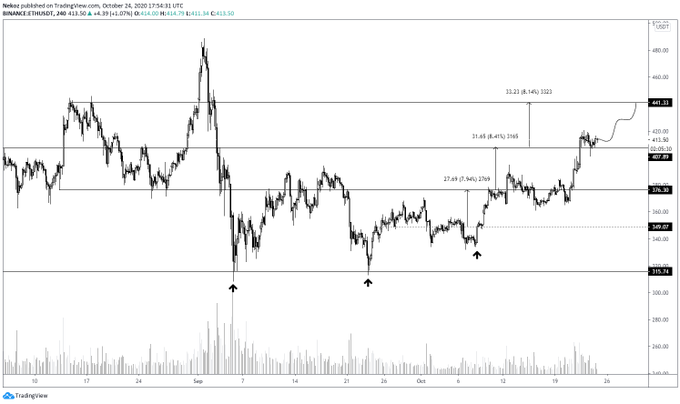 Chart of ETH's price action over the past few weeks with an analysis by crypto trader Nekoz (@CryptoNekoz on Twitter).  
Source: ETHUSD from TradingView.com
Ethereum Has Strong On-Chain Trends
Ethereum has decent on-chain trends that suggest the uptrend will persist in the days ahead.
Santiment, a blockchain analytics firm, shared the chart below just recently with the following comment:
"There is good news and bad news for #Ethereum's quest to again surpass the $420 price barrier. The good news is that miners aren't selling, and there is a big increase in new $ETH addresses being created, and pre-existing addresses have shown an increase in activity. The bad news is that social sentiment is bordering on euphoric territory, and daily active deposits have jumped in a big way."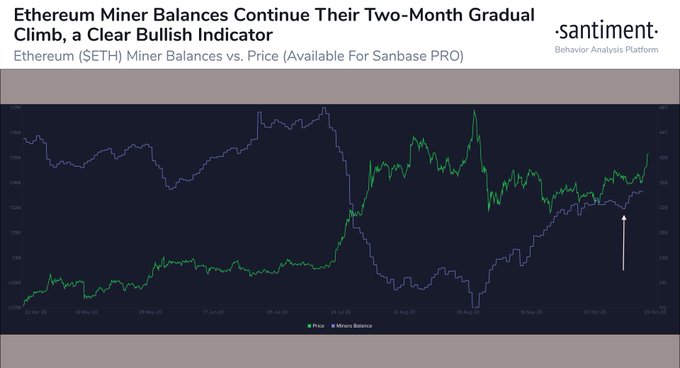 Chart of ETH's price action over the past few months with an overlay of miner balances. Chart from Santiment
As the company notes, there are a few reasons to be concerned, namely around Ethereum social sentiment and the number of daily active deposits to exchanges.
Bitcoin rallying higher would likely be enough to drive ETH higher in the days ahead, though.
Featured Image from Shutterstock
Price tags: ethusd, ethbtc, ethusdt, btcusd, btcusdt, xbtusd
Charts from TradingView.com
Analysts Think Ethereum Will Surge as Bitcoin Holds $13,000 Support
Ethereum Could Break Dramatically Higher Once It Holds $500
Ethereum has undergone a strong surge over recent days that has brought it from the $360 range to highs of $420. Analysts say that it will undergo a macro move higher once it manages to flip $500 into support.
Ethereum Set to Break Dramatically Higher Once It Holds $500: Analyst
The cryptocurrency is currently positioning to move higher as it holds the $390-400 region.
As reported by Bitcoinist previously, analysts say that if the coin manages to flip $420 into support, it is likely to move to $500. One crypto-asset analyst commented on the matter:
"Nice break above the $395 flat top on $ETH. ETH doesn't always give throwbacks, so a $395 throwback is certainly possible before higher, but I wouldn't be on it. Otherwise, this looks good for a run back near the $490 highs."
Should ETH flip $500 into support, analysts say it will be cleared to explode higher.
The chart below was shared on October 23rd. It suggests that should Ethereum manage to flip $500 into support, it will begin a rally to four digits on a macro basis. $500 is important because it is just shy of where the market topped during August's rally. Above $500, there is also little historical price action, indicating that the coin could enter "price discovery."
Commenting on the significance of the chart, the trader who made the chart wrote:
"Happy playing this relatively large range until I'm ready for a full swing. I'd want to see the mid point of this pivot zone acting as support to take it."
Chart of ETH's price action over the past few years with an analysis by crypto trader CJ (@irncrypt on Twitter).
Source: ETHUSD from TradingView.com
Fundamental Setback Regarding ETH2 
Ethereum is facing a setback though as reports indicate that the ETH2 upgrade may be pushed back.
In a comment first obtained by CoinDesk, Ethereum Foundation researcher Danny Ryan said that the deposit contract for the upgrade will not go live until an audit is completed:
"This library is critical to creating keys, signing messages. Critical, in early phases, [means] that if you use this library, they need to be secure; if you use it to generate your wallets, it needs to have good randomness; and if you are signing your deposits which have a signature associated, it needs to be correct," Ryan said. "Given that how critical this library is, and given that, if there is a fundamental error in this library we could f*ck some sh*t up in terms of genesis deposits, that is the blocker."
This audit could result in a delay until November, Ryan suggested.
Another Ethereum developer working on the upgrade said that once the deposit contract is released, there will likely be a 6-8 week gap between the release and ETH2 deployment.
Photo by Oz Seyrek on Unsplash
Price tags: ethusd, ethbtc
Charts from TradingView.com
Ethereum Could Break Dramatically Higher Once It Holds $500
Anonymous devs behind a DeFi yield farm could steal $1B in 12 hours
Harvest Finance, a decentralized finance project that succeeded in attracting over $1 billion in funds locked has an admin key that gives its holders the ability to mint tokens at will and steal users' funds.
As noted by auditing companies PeckShield and Haechi, the governance parameters are not set by a contract with clearly defined rules. An admin key, presumably held by the anonymous developers behind the project, could be used to arbitrarily mint new FARM tokens.
This power could allow the governance key holders to create an unlimited number of tokens and drain funds in the token's Uniswap pool, which currently holds $12 million in USDC.
Harvest Finance is an automated yield management system, featuring vault-based strategies similar to Yearn Finance. Haechi highlighted that in addition to the minting mechanics, the governance key holder has the ability to change the vault functionality at will, which could be exploited by submitting a bogus strategy that simply sends the funds to an attacker-controlled address.
The holders of the governance key would thus have the theoretical possibility of stealing all of the $1.05 billion in assets committed to the protocol, in addition to the funds in the Uniswap pool.
In response to the audits, the team introduced a 12 hour time lock that should give enough advanced warning to users if any foul play is detected — but that requires constant community vigilance.
The project is currently running a classical yield farm similar to many of the "food coins." Users can commit Ether (ETH), Wrapped Bitcoin (BTC) and other assets, but the highest FARM yield can be found by submitting FARM tokens themselves, without necessarily requiring the additional layer of abstraction of Uniswap pool tokens. Such a circular dependency is characteristic of many crypto Ponzi schemes.
The team is completely anonymous, though the project succeeded in attracting a relatively sizable community and has been involved in the community by doling out grants.
While nothing would suggest malicious intentions for now, the project is strongly centralized and prospective farmers should be aware that they are trusting an anonymous group of developers to resist the temptation to run off with their money, similarly to how the community initially trusted SushiSwap's founder.