Foresight or folly? Data show 70% of exchanges are unmoved by DeFi volume
A recent survey by cryptocurrency data aggregator, CryptoCompare, shows that centralized exchange operators do not see the emergence of decentralized trading venues like Uniswap as a threat despite growing volume and activity in the DeFi space. 
In its September exchange review, CryptoCompare asked 26 of the leading venues in the space how likely it was for DEX liquidity to overtake that of centralized exchanges in a 2-year time span. 70% of those interviewed said that decentralized exchanges will not overtake centralized exchange volume due to their lack of liquidity.
Only 7.7% of the representatives found that it was a likely event, while 19.2% remained neutral. As shown below, 34.6% of the participants believe it is unlikely and 38.5% say it is very unlikely.
DEX liquidity survey results. Source: CryptoCompare
Is DeFi still a diamond in the rough?
It is easy to dismiss DeFi as yet another short lived crypto-trend perpetuated by money-hungry founders and fueled by gullible investors. For multiple reasons, the sector resembles that of the 2017 ICO craze. 
There's unaudited contracts holding hundreds of millions of dollars, unrealistics returns for platforms that seem like nothing more than vaporware and a whole lot of FOMO. Since DeFi became a buzzword, there has also been a significant number of scam projects and developer drama which have generated major waves in crypto media.
So the question is, if most of the highly speculative token projects appreciate steeply overnight for no reason, then abruptly crash the next day only to crash as abruptly, why do investors keep pouring money into DeFi? 
The primary reason is that the rewards provided by liquidity protocols have earned yield farmers unbelievable sums of money. As high APYs attract more yield farmers, decentralized exchanges like Uniswap and Curve can count on growing liquidity and as long as this cycle remains DeFi trading volumes are expected to increase.
Time to take DeFi seriously?
However, rewards usually come from trading fees. This means that, the higher the volume, the more exchanges and liquidity providers earn. 
DEX daily active users. Source: Digital Assets Data
Although data from Cointelegraph and Digital Assets Data show that the number of active users on decentralized exchanges has been in a steady decline since September, the total value locked in DeFi platforms continues to rise. 
Total value locked in DeFi platforms. Source: Defi Pulse
Flipside Crypto, a onchain data resource, recently found that around $300 million is being sent everyday to DeFi applications in Ether and other ERC20 tokens. 
This is nearly double the inflow seen at centralized exchanges and 70% of the $300 million alone are sent to Uniswap. It's also worth noting that in September Uniswap trading volumes eclipsed that of leading centralized exchanges like Coinbase on multiple occasions.
According to the CryptoCompare survey, centralized exchange representatives believe that the privacy provided by DEXs are the primary reason why traders use these exchanges. 
While this is partially true, some of these projects are also aiming to solve some of the most challenging problems that exist in the digital asset world.
For example, Curve provides users a way to exchange stablecoins with very little slippage due to its liquidity pools, while Pickle Finance aims to bring stability to the pegs of stablecoins by artificially increasing supply and demand through malleable incentive mechanisms. 
There are a handful of similar projects and their existence shows that DeFi is attractive not only for its advantages to the individual but also for the community.
The truth is, centralized exchanges feel threatened by DeFi 
Many industry leaders have decided to not take DeFi seriously by simply writing it off as another passing fad but Binance CEO Changpeng Zhao feels differently.  Recently CZ told CoinDesk that he expects DeFi to "cannibalize" his exchange and this explains the exchange has been making some serious ventures into DeFi as of late.  
Even though the survey participants are effectively ignoring decentralized exchange trading volumes now, one interesting take away is that 40% of exchanges surveyed admitted that they are building or planning to build a DEX in the future.
This is a clear signal that centralized exchanges actually do view DeFi as a serious threat to their current business models.
Analysts Think Ethereum Will Surge as Bitcoin Holds $13,000 Support
Ethereum has undergone a strong 10-15% rally over the past seven days that has brought it as high as $420.
The coin is expected to move towards $433 to "catch up" to Bitcoin.
Ethereum Expected to Surge As Bitcoin Holds Key Supports
Ethereum has undergone a strong 10-15% rally over the past seven days that has brought it as high as $420. The coin currently trades for $412 as it positions to move higher.
The strength in the price of ETH comes as Bitcoin has held the $13,000 support, which many feared would mark the top of the rally. Bitcoin currently trades for $13,150.
With BTC holding above $13,000, ETH is expected to move towards $433 to "catch up" to Bitcoin.
One analyst shared the chart below, showing that ETH will likely move to $433 before the weekend finishes, then continue towards the yearly highs at $490 by the end of the month.
Chart of ETH's price action over the past few weeks with an analysis by crypto trader Steve (@Thetradingtramp on Twitter). 
Source: ETHUSD from TradingView.com
Other analysts agree with this sentiment. One crypto-asset trader shared the chart below, showing that Ethereum's recent price action has allowed it to flip the $407 horizontal into support. This suggests that it will push towards the next important horizontal level at $445 in the days ahead.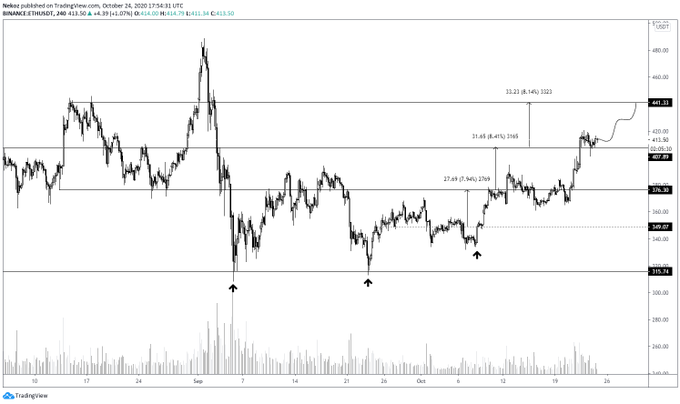 Chart of ETH's price action over the past few weeks with an analysis by crypto trader Nekoz (@CryptoNekoz on Twitter).  
Source: ETHUSD from TradingView.com
Ethereum Has Strong On-Chain Trends
Ethereum has decent on-chain trends that suggest the uptrend will persist in the days ahead.
Santiment, a blockchain analytics firm, shared the chart below just recently with the following comment:
"There is good news and bad news for #Ethereum's quest to again surpass the $420 price barrier. The good news is that miners aren't selling, and there is a big increase in new $ETH addresses being created, and pre-existing addresses have shown an increase in activity. The bad news is that social sentiment is bordering on euphoric territory, and daily active deposits have jumped in a big way."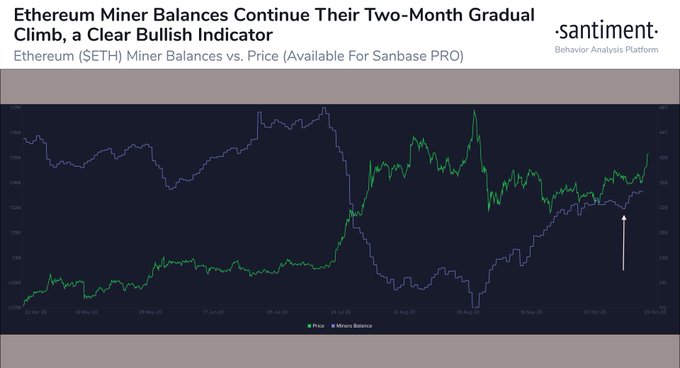 Chart of ETH's price action over the past few months with an overlay of miner balances. Chart from Santiment
As the company notes, there are a few reasons to be concerned, namely around Ethereum social sentiment and the number of daily active deposits to exchanges.
Bitcoin rallying higher would likely be enough to drive ETH higher in the days ahead, though.
Featured Image from Shutterstock
Price tags: ethusd, ethbtc, ethusdt, btcusd, btcusdt, xbtusd
Charts from TradingView.com
Analysts Think Ethereum Will Surge as Bitcoin Holds $13,000 Support
Ethereum Could Break Dramatically Higher Once It Holds $500
Ethereum has undergone a strong surge over recent days that has brought it from the $360 range to highs of $420. Analysts say that it will undergo a macro move higher once it manages to flip $500 into support.
Ethereum Set to Break Dramatically Higher Once It Holds $500: Analyst
The cryptocurrency is currently positioning to move higher as it holds the $390-400 region.
As reported by Bitcoinist previously, analysts say that if the coin manages to flip $420 into support, it is likely to move to $500. One crypto-asset analyst commented on the matter:
"Nice break above the $395 flat top on $ETH. ETH doesn't always give throwbacks, so a $395 throwback is certainly possible before higher, but I wouldn't be on it. Otherwise, this looks good for a run back near the $490 highs."
Should ETH flip $500 into support, analysts say it will be cleared to explode higher.
The chart below was shared on October 23rd. It suggests that should Ethereum manage to flip $500 into support, it will begin a rally to four digits on a macro basis. $500 is important because it is just shy of where the market topped during August's rally. Above $500, there is also little historical price action, indicating that the coin could enter "price discovery."
Commenting on the significance of the chart, the trader who made the chart wrote:
"Happy playing this relatively large range until I'm ready for a full swing. I'd want to see the mid point of this pivot zone acting as support to take it."
Chart of ETH's price action over the past few years with an analysis by crypto trader CJ (@irncrypt on Twitter).
Source: ETHUSD from TradingView.com
Fundamental Setback Regarding ETH2 
Ethereum is facing a setback though as reports indicate that the ETH2 upgrade may be pushed back.
In a comment first obtained by CoinDesk, Ethereum Foundation researcher Danny Ryan said that the deposit contract for the upgrade will not go live until an audit is completed:
"This library is critical to creating keys, signing messages. Critical, in early phases, [means] that if you use this library, they need to be secure; if you use it to generate your wallets, it needs to have good randomness; and if you are signing your deposits which have a signature associated, it needs to be correct," Ryan said. "Given that how critical this library is, and given that, if there is a fundamental error in this library we could f*ck some sh*t up in terms of genesis deposits, that is the blocker."
This audit could result in a delay until November, Ryan suggested.
Another Ethereum developer working on the upgrade said that once the deposit contract is released, there will likely be a 6-8 week gap between the release and ETH2 deployment.
Photo by Oz Seyrek on Unsplash
Price tags: ethusd, ethbtc
Charts from TradingView.com
Ethereum Could Break Dramatically Higher Once It Holds $500
Anonymous devs behind a DeFi yield farm could steal $1B in 12 hours
Harvest Finance, a decentralized finance project that succeeded in attracting over $1 billion in funds locked has an admin key that gives its holders the ability to mint tokens at will and steal users' funds.
As noted by auditing companies PeckShield and Haechi, the governance parameters are not set by a contract with clearly defined rules. An admin key, presumably held by the anonymous developers behind the project, could be used to arbitrarily mint new FARM tokens.
This power could allow the governance key holders to create an unlimited number of tokens and drain funds in the token's Uniswap pool, which currently holds $12 million in USDC.
Harvest Finance is an automated yield management system, featuring vault-based strategies similar to Yearn Finance. Haechi highlighted that in addition to the minting mechanics, the governance key holder has the ability to change the vault functionality at will, which could be exploited by submitting a bogus strategy that simply sends the funds to an attacker-controlled address.
The holders of the governance key would thus have the theoretical possibility of stealing all of the $1.05 billion in assets committed to the protocol, in addition to the funds in the Uniswap pool.
In response to the audits, the team introduced a 12 hour time lock that should give enough advanced warning to users if any foul play is detected — but that requires constant community vigilance.
The project is currently running a classical yield farm similar to many of the "food coins." Users can commit Ether (ETH), Wrapped Bitcoin (BTC) and other assets, but the highest FARM yield can be found by submitting FARM tokens themselves, without necessarily requiring the additional layer of abstraction of Uniswap pool tokens. Such a circular dependency is characteristic of many crypto Ponzi schemes.
The team is completely anonymous, though the project succeeded in attracting a relatively sizable community and has been involved in the community by doling out grants.
While nothing would suggest malicious intentions for now, the project is strongly centralized and prospective farmers should be aware that they are trusting an anonymous group of developers to resist the temptation to run off with their money, similarly to how the community initially trusted SushiSwap's founder.