CFTC Chairman Tarbert is Impressed by Ethereum, "Period"
Ethereum has faced a strong drop since the August highs of $490.
The coin currently trades for $375, far below the aforementioned highs.
The cryptocurrency remains in a fundamentally strong position, though, analysts say.
So much so that the chairman of the U.S. Commodities and Futures Trading Commission (CFTC) threw his weight behind Ethereum.
In a talk, he said that he has genuinely been impressed by the protocol.
He added that if Bitcoin is email, Ethereum is the Internet.
His comment created some controversy online as some Bitcoin maximalists thought it was foolish of him to take that position.
CFTC Chairman Announces Support for Ethereum
Ethereum has faced much criticism over recent months as the network has faced severe congestion issues. The cynics say that the network will never succeed due to delays in the launches of Ethereum scaling technologies.
But the proponents of the protocol are not fazed. Heath Tarbert, the chairman of the U.S. Commodities and Futures Trading Commission (CFTC), recently doubled down on his support for Ethereum.
Speaking at a CoinDesk event, he said that he has been impressed with Ethereum, "period."
He elaborated that in his role as a regulator of commodities and derivatives, he sees Bitcoin as email while Ethereum is "more like the Internet." He did admit, though, that Bitcoin remains a revolutionary technology.
The chairman of the CFTC literally just said this pic.twitter.com/CRVwA4SwNT

— Spencer Noon (@spencernoon) October 14, 2020
It's worth noting that this isn't the first time Tarbert has mentioned Ethereum in a positive light.
In an interview with Bloomberg at the start of 2020, the regulator stated that he thinks that Ethereum is worthy of having its own U.S.-regulated futures. He said in October 2019 that he "absolutely" believed there would be futures for the coin within six to 12 months of those comments. Tarbert's assertion suggests that the CFTC sees Ethereum as a commodity, not a security as some critics have suggested.
An Active Regulator
While the CFTC does see value in cryptocurrencies, it is actively regulating the space.
The CFTC made headlines just a week ago when it was revealed that it was charging BitMEX, a crypto derivatives provider that has futures for Bitcoin, Ethereum, and other digital assets. BitMEX is by far one of the most influential companies in the crypto space, facilitating much BTC and ETH derivatives volume.
Investors are somewhat unfazed by the news about BitMEX, though. Mike Novogratz, CEO of crypto investment bank Galaxy Digital, said after the news on the prospects of crypto:
"Crypto friends, Let's remember that you are innocent to proven guilty. It's a cornerstone of American justice. I have no insight into the case but I wish @CryptoHayes well. I do think that $btc and crytpo is far bigger than any one exchange or person. So buy dips."
The CFTC may face a problem in Ethereum, though, as decentralized derivatives platform gather steam.
Photo by Matthew Waring on Unsplash
Price tags: ethusd, ethbtc
Charts from TradingView.com
CFTC Chairman Tarbert is Impressed by Ethereum, "Period"
Is DeFi really a threat to centralized finance? Oct. 14-21
No major euphoria-worthy moments happened this week — the ecosystem is still cooling off. 
I think the biggest sign of that is Uniswap's trading volume. After hitting a peak of slightly less than $1 billion in daily volume in early September, those numbers steadily deflated.
But despite the downtrend, I think even the current level is still well beyond the wildest imagination of a DeFi fan in 2019. For reference, those figures are roughly on par with Bitstamp or Bitfinex (even though as I write this, their volume seems to have skyrocketed with the PayPal news).
This analysis of a survey on centralized exchange operators captured my attention though. What they say is that they don't fear DeFi, but the article's author posits that their actions betray their true beliefs. Given the plethora of "CeDeFi" platforms, we can definitely see a degree of co-opting done by powerful exchanges.
So should CeFi representatives be afraid of DeFi?
Well, I think they should be concerned but not afraid. DeFi as it exists now in many ways repeats what these exchanges already do. Uniswap is obvious, but then you have stuff like Compound and Aave that are mostly used, as I and many others believe, for leveraged trading.
That's just everything you can do with an over-collateralized loan backed by an ephemeral asset (as opposed to a house or car). Maybe some rich crypto whales could use these loans for a more tax-efficient use of their money without losing their crypto position, but even that is still a form of leverage — you lose more when it goes down compared to just selling the portion you need to pay for expenses.
And of course, you can do all these things with CeFi, it's just that you may need to pass through pesky KYC to do so. So in that sense, DeFi will always have an advantage — it's a more immediate and uncensorable user experience, provided you've set up your wallet.
There are also issues related to fundamental design. AMMs like Uniswap or Curve will never really replace order book exchanges because they can't price things "correctly" on their own. Of course, the order book exchange doesn't have to be centralized, but we're still a bit far off from mass adoption of platforms like Serum or Loopring.
I talked about this in-depth in my feature on DEXs, and I share the overall judgement expressed by Loopring's Matthew Finestone: centralized exchanges will definitely remain for those who want full regulation, for example institutions, plus as gateways for fiat.
Such a scenario leaves a sizable piece of the pie for centralized venues.
Uniswap governance epic fail
The Dharma-led governance vote to reduce the voting quorum on Uniswap failed… because it didn't reach quorum.
The weirdest thing about this story is that any reasonable person would look at it and say, "but it did reach quorum!"
The final tally is 39,596,759 UNI for vs. 696,857 UNI against, which does add up to slightly more than the 40 million required. Except that Uniswap (and Compound) for some reason considers "quorum" as "how many people voted yes." The generally accepted definition takes all votes into consideration, no matter which way they were cast.
So why did this failure occur? Is it a coincidence that the vote would have passed under the standard definition of a quorum?
I have strong doubts about that. Even some in the community suggest that people really thought it would have passed. The logic is that once you reach the threshold there's no point to add more votes since it costs gas and work to rally voters.
Maybe the vote really whiffed by a hair because it couldn't gather the community support it needed.
But I wouldn't be surprised to learn that someone at Dharma just messed this up.
Another day, another FOMO into Cronje's tests
At this point I'm not even sure what to say anymore, but Yearn Finance founder Andre Cronje was once again "the cause" of some people losing money in a pump & dump scheme. (Hint: he really wasn't.)
This time it was Keep3r, a sort of freelance platform for developer operations, a generic term for maintaining some technical infrastructure. Things like calling a smart contract or doing some tricky thing with smart contract deployment.
Its token, KPR, was once again listed on Uniswap by people who discovered the contract. I know of one guy who joined in the fun, apparently making money while doing so — obviously at the expense of others not so lucky. This time the scale paled in comparison to stuff like Eminence, as only a few thousand dollars in volume was registered.
Obviously, this wasn't even the final version of the project for that day. That's how Cronje tests his software, by iterating through code on mainnet. There are dozens of Yearns or YFI token contracts on Ethereum, as he revealed earlier.
As I mentioned last week, this really has nothing to do with Cronje. There's just no way he could disclaim harder that people shouldn't throw their money into these contracts, and the losses are just due to the games these people play on Uniswap.
There was a literal Ponzi smart contract that some guy released once, and people did put money into it. That's just crypto I guess.
Impermanent loss insurance
Bancor released the V2.1 of its exchange, which basically discards one of the key components of the earlier release. It used to be that the exchange would read market prices via oracles so that liquidity providers wouldn't suffer impermanent loss (also called divergence loss since you lose money when two assets in a pool diverge in price).
It turned out that it didn't work. Oracles are too slow to update and are front-runnable, so Bancor has now embraced the harsh reality: you can't fix impermanent loss.
AMM developers seem to be reaching the conclusion that there is no general solution to this issue — there is always some trade-off or drawback.
In that sense, there is a perfectly functional way of reducing impermanent loss for Uniswap liquidity providers. Basically, the idea is that by providing liquidity they have a "short volatility" position — they lose if volatility is high, and they make more money from fees if volatility stays low.
Worth mentioning that I'm talking about the concept of volatility as usually seen in option markets, which consists of decisive moves in a certain direction, as opposed to what most people associate with the term, which is how "jittery" the price is.
So you can hedge impermanent loss by simply opening a "long volatility" position: buy an appropriate amount of both call and put options and roll them over as they expire.
You'll pay a premium, but your impermanent loss should be fully covered.
Maybe I've lost you there with this options talk. But the good thing is that Bancor introduced a fairly similar mechanism of impermanent loss insurance. The cost is borne by the BNT holders through some fancy mint and burn mechanics, so liquidity providers on certain pairs can feel safe that they'll always make money if they hold the pool token for long enough.
I expect more and more AMMs will start to follow a similar approach where the costs of impermanent loss are simply shifted somewhere else. Indeed, I strongly suspect that the upcoming Uniswap V3 will feature something like this.
Ethereum Price Breaches Pivotal Resistance Level—And That's Big for Bulls
It's been a good day for the crypto market, with Bitcoin, Ethereum, and altcoins posting strong gains.
The two leading crypto-assets have gained approximately 8% each over the past 24 hours, which is the best performance in many weeks.
Ethereum is expected to move higher as fundamental and technical trends align.
One crypto-asset trader pointed to the significance of Ethereum's recent move higher.
The leading cryptocurrency recently passed above the important $390 resistance level, which marked the highs of a rally a number of weeks ago.
ETH closing above this level on a two-day basis will confirm that there's more upside in the cards for the asset.
Ethereum Explodes Higher as Bitcoin Roars to $13,000
Ethereum is exploding higher as Bitcoin posts one of its best days in many months.
BTC is up 8% in the past 24 hours, having rallied from $11,900 to $12,850 as of this article's writing, shocking most investors. ETH has pushed higher too, moving above $390 to $400 as of this article's writing.
One crypto-asset trader pointed to the significance of Ethereum's recent move higher.
The chart below is of ETH's macro price performance but inverted. As the chart indicates, the leading cryptocurrency recently passed above the important $390 resistance level, which marked the highs of a rally a number of weeks ago.
This suggests that Ethereum is primed to move even higher in the weeks ahead if it confirms the level as support.
Chart of ETH's price action since the start of 2018 with analysis by crypto trader Horn Hairs (@Cryptohornhairs on Twitter).
Source: ETHUSD (inverse) from TradingView.com
Fundamental Trends Favoring Bulls
Fundamental Ethereum trends are favoring the bullish narrative shared by analysts.
Santiment, a blockchain data company, reported just recently that Ethereum investors are accumulating en-masse:
"$ETH's top 10 whale exchange addresses have continued swapping their funds to non-exchange wallets, & moving holdings at an impressive rate. The 20.5% decrease in tokens on exchanges the past 2 months indicates price confidence by top #Ethereum holders."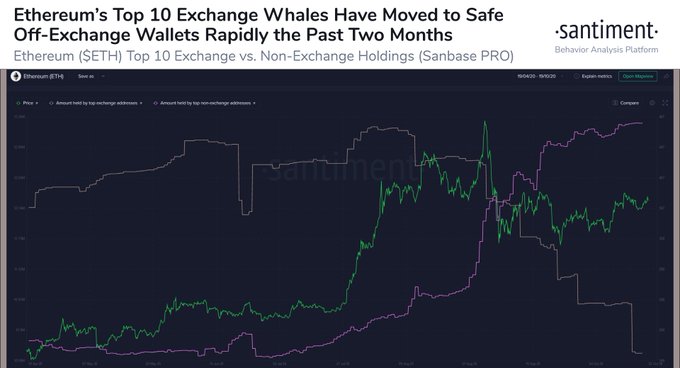 Chart of ETH's price action over the past few months with an overlay of the number of top 10 exchange holdings vs. non-exchange holdings.
Chart from Santiment, a blockchain analytics firm.
Not to mention, innovation on the network continues as capital from venture capital firms continues to flood into the space.
Photo by JW DANG on Unsplash
Price tags: ethusd, ethbtc
Charts from TradingView.com
Ethereum Price Breaches Pivotal Resistance Level—And That's Big for Bulls
Yield farming fuels 623% growth in DAI supply to nearly $1B
Decentralized finance's (DeFi) explosive third-quarter brought significant growth to Ethereum (ETH)-compatible stablecoins.
According to crypto market data aggregator Messari, the supply of MakerDAO's DAI stablecoin grew by 623% in Q3 2020, pushing the token's value above $1 for four consecutive months.
Since starting July with a market cap of nearly $130 million, DAI's supply has expanded to more than $940 million today.
DAI is created when Ether holders deposit their ETH into the MakerDAO protocol, allowing them to create the stablecoin using Ether as collateral. DAI is an ERC-20 token and can then be used on the Ethereum network to generate interest or 'yield' using DeFi protocols.
Messari attributes much of DAI's recent growth to the launch of four significant liquidity mining programs in the DeFi sector, including a change to Compound's (COMP) yield distribution that bolstered DAI rewards on June 30, the launch of Yearn Finance (YFI) farming on July 18, Curve's (CRV) launch on Aug. 13, and the launch of yield farming for Uniswap's UNI token on September 16.
Messari estimates that 65% of DAI's entire supply is currently being supplied to DeFi protocols for yield farming.
Demand for Circle's USD Coin (USDC) similarly exploded in the third quarter, with USDC's market cap tripling from $928 million on July 1 to $2.79 billion today. USDC is the second stablecoin to grow by more than $1 billion in a single quarter, after Tether (USDT).
Data published by Flipside Crypto indicated a surge in demand for USDC among DeFi users following Curve's launch — with USDC's market cap growing by 150% since the platform went live.
Messari estimates the capitalization of the combined stablecoin sector grew by $8.2 billion in Q3 — more than that of the previous four quarters combined. Of the sector's $20 billion capitalization, the firm estimates 75% has been issued on Ethereum
USDC has also partnered with blockchain networks Solana (SOL), Stellar (XLM), Algorand (ALGO), and Flow (FLOW).