Can DeFi and on-chain governance change human nature? Oct. 7-14
This week, one bit of news really grabbed my attention: Dharma getting criticized for allegedly trying to capture Uniswap governance.
Dharma is the company behind a crypto payments and exchange app, a sort of Ethereum-based cousin of Square's Cash App. Or at least that's what I previously used to describe it — if you visit the website now you basically only see mentions of DeFi and some very trippy images.
The Dharma website design is now very… daring. And inspired by Uniswap in some ways.
Like Uniswap and Compound, Dharma is backed by some traditional Silicon Valley venture capitalists and Coinbase. It's also one of the most vocal "community governance" members of both protocols — shocking, I know.
But I don't mean to single out Dharma here. They have legitimate interests in the matter given their tight product integrations with DeFi, and on Uniswap they're trying to do right by their users who missed out on the airdrop.
If you take a stroll through the Compound or Uniswap governance dashboards, you'll probably see the general issues I see with these types of "decentralized community governance" protocols.
Most proposals are submitted by a small clique of stakeholders, usually the team or some highly-related company (another name that often pops up is Gauntlet, which is funded by Paradigm, Polychain… and obviously Coinbase). It doesn't help that making a proposal on Compound requires a fully formed technical implementation and 100,000 COMP (worth $10 million or so).
Sure, you may discuss things on the forums as a small holder. But I have serious doubts that those public forums are where the real decision-making occurs. To be fair, the Compound and Uniswap forums could not be more different. The former is a place devoid of life or fun, the latter rages with discussion and accusations.
The rich get richer
Somehow, I feel that the token distribution schemes had a very, very strong effect on that disparity. Uniswap's "reward anyone who randomly used us in the past" was definitely much more equitable than Compound's "let's distribute tokens with no lockup to whoever manages to pull in the most capital." 
In general, there's nothing really fair about yield farming launches — the richer you are the more tokens you receive and the richer you get.
Most of all, this is not inventing anything new. It's a corporate board, plain and simple. Corporate boards benefit the team and the already-rich who can devote capital to the venture, it's just that with DeFi you get tokens instead of shares. 
Honestly, crypto has always been oligarchical. And that's fine, that's human nature. But if we really want to make something different, we have to realize that our actions are taking us down the same path that formed the modern world.
Maybe it's possible to have a truly decentralized governance system — whatever that means — but it certainly won't happen when we actively reward wealth with control. (And control with more wealth.)
The blame games are getting out of hand
A story that made me chuckle is the sincere belief shared by some that YFI fell because Alameda Research (the company behind the FTX exchange) shorted it.
The blockchain doesn't lie, and CEO Sam Bankman-Fried didn't exactly deny it, so maybe it's true.
Of course the logical reason for a bull to get irritated about shorting is that by doing so, bears create extra selling pressure. And that's probably true, but one also has to remember that they provide extra buying pressure on the way down. It's quite well established that futures — which make shorting very easy — dampen the overall volatility of the market.
Emotions are running high, and anger is usually associated with the bottom of a market cycle, so maybe this news is actually good?
But there's another blame game that makes very little sense and suggests people are still crazy. Andre Cronje, the founder of Yearn Finance, is once again being attacked because people "aped in" to one of his unreleased projects.
It was basically an impermanent loss mitigation proof-of-concept for other developers to try. People put huge sums of money and then lost it — one particular address put in 1,000 ETH and got back 74 ETH.
But despite Cronje's giant, stark warnings (see below) people were still bashing this as yet another example of him "testing in prod" and making people lose money.
Except that, well, nothing actually happened. The system worked fully as intended, nobody got hacked. This is just what usually happens when you pile into some random smart contract.
So, errr, maybe read the sign. Then there's nobody to blame and we can all enjoy DeFi again.
Analysts Think Ethereum Will Surge as Bitcoin Holds $13,000 Support
Ethereum has undergone a strong 10-15% rally over the past seven days that has brought it as high as $420.
The coin is expected to move towards $433 to "catch up" to Bitcoin.
Ethereum Expected to Surge As Bitcoin Holds Key Supports
Ethereum has undergone a strong 10-15% rally over the past seven days that has brought it as high as $420. The coin currently trades for $412 as it positions to move higher.
The strength in the price of ETH comes as Bitcoin has held the $13,000 support, which many feared would mark the top of the rally. Bitcoin currently trades for $13,150.
With BTC holding above $13,000, ETH is expected to move towards $433 to "catch up" to Bitcoin.
One analyst shared the chart below, showing that ETH will likely move to $433 before the weekend finishes, then continue towards the yearly highs at $490 by the end of the month.
Chart of ETH's price action over the past few weeks with an analysis by crypto trader Steve (@Thetradingtramp on Twitter). 
Source: ETHUSD from TradingView.com
Other analysts agree with this sentiment. One crypto-asset trader shared the chart below, showing that Ethereum's recent price action has allowed it to flip the $407 horizontal into support. This suggests that it will push towards the next important horizontal level at $445 in the days ahead.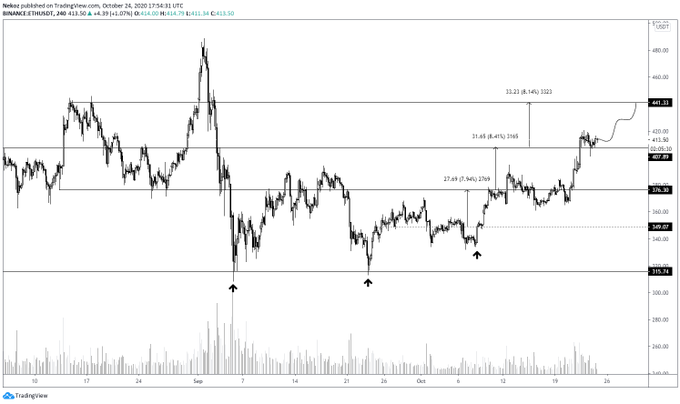 Chart of ETH's price action over the past few weeks with an analysis by crypto trader Nekoz (@CryptoNekoz on Twitter).  
Source: ETHUSD from TradingView.com
Ethereum Has Strong On-Chain Trends
Ethereum has decent on-chain trends that suggest the uptrend will persist in the days ahead.
Santiment, a blockchain analytics firm, shared the chart below just recently with the following comment:
"There is good news and bad news for #Ethereum's quest to again surpass the $420 price barrier. The good news is that miners aren't selling, and there is a big increase in new $ETH addresses being created, and pre-existing addresses have shown an increase in activity. The bad news is that social sentiment is bordering on euphoric territory, and daily active deposits have jumped in a big way."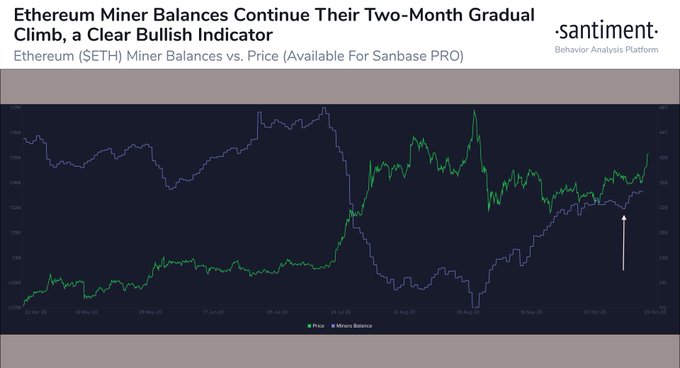 Chart of ETH's price action over the past few months with an overlay of miner balances. Chart from Santiment
As the company notes, there are a few reasons to be concerned, namely around Ethereum social sentiment and the number of daily active deposits to exchanges.
Bitcoin rallying higher would likely be enough to drive ETH higher in the days ahead, though.
Featured Image from Shutterstock
Price tags: ethusd, ethbtc, ethusdt, btcusd, btcusdt, xbtusd
Charts from TradingView.com
Analysts Think Ethereum Will Surge as Bitcoin Holds $13,000 Support
Ethereum Could Break Dramatically Higher Once It Holds $500
Ethereum has undergone a strong surge over recent days that has brought it from the $360 range to highs of $420. Analysts say that it will undergo a macro move higher once it manages to flip $500 into support.
Ethereum Set to Break Dramatically Higher Once It Holds $500: Analyst
The cryptocurrency is currently positioning to move higher as it holds the $390-400 region.
As reported by Bitcoinist previously, analysts say that if the coin manages to flip $420 into support, it is likely to move to $500. One crypto-asset analyst commented on the matter:
"Nice break above the $395 flat top on $ETH. ETH doesn't always give throwbacks, so a $395 throwback is certainly possible before higher, but I wouldn't be on it. Otherwise, this looks good for a run back near the $490 highs."
Should ETH flip $500 into support, analysts say it will be cleared to explode higher.
The chart below was shared on October 23rd. It suggests that should Ethereum manage to flip $500 into support, it will begin a rally to four digits on a macro basis. $500 is important because it is just shy of where the market topped during August's rally. Above $500, there is also little historical price action, indicating that the coin could enter "price discovery."
Commenting on the significance of the chart, the trader who made the chart wrote:
"Happy playing this relatively large range until I'm ready for a full swing. I'd want to see the mid point of this pivot zone acting as support to take it."
Chart of ETH's price action over the past few years with an analysis by crypto trader CJ (@irncrypt on Twitter).
Source: ETHUSD from TradingView.com
Fundamental Setback Regarding ETH2 
Ethereum is facing a setback though as reports indicate that the ETH2 upgrade may be pushed back.
In a comment first obtained by CoinDesk, Ethereum Foundation researcher Danny Ryan said that the deposit contract for the upgrade will not go live until an audit is completed:
"This library is critical to creating keys, signing messages. Critical, in early phases, [means] that if you use this library, they need to be secure; if you use it to generate your wallets, it needs to have good randomness; and if you are signing your deposits which have a signature associated, it needs to be correct," Ryan said. "Given that how critical this library is, and given that, if there is a fundamental error in this library we could f*ck some sh*t up in terms of genesis deposits, that is the blocker."
This audit could result in a delay until November, Ryan suggested.
Another Ethereum developer working on the upgrade said that once the deposit contract is released, there will likely be a 6-8 week gap between the release and ETH2 deployment.
Photo by Oz Seyrek on Unsplash
Price tags: ethusd, ethbtc
Charts from TradingView.com
Ethereum Could Break Dramatically Higher Once It Holds $500
Anonymous devs behind a DeFi yield farm could steal $1B in 12 hours
Harvest Finance, a decentralized finance project that succeeded in attracting over $1 billion in funds locked has an admin key that gives its holders the ability to mint tokens at will and steal users' funds.
As noted by auditing companies PeckShield and Haechi, the governance parameters are not set by a contract with clearly defined rules. An admin key, presumably held by the anonymous developers behind the project, could be used to arbitrarily mint new FARM tokens.
This power could allow the governance key holders to create an unlimited number of tokens and drain funds in the token's Uniswap pool, which currently holds $12 million in USDC.
Harvest Finance is an automated yield management system, featuring vault-based strategies similar to Yearn Finance. Haechi highlighted that in addition to the minting mechanics, the governance key holder has the ability to change the vault functionality at will, which could be exploited by submitting a bogus strategy that simply sends the funds to an attacker-controlled address.
The holders of the governance key would thus have the theoretical possibility of stealing all of the $1.05 billion in assets committed to the protocol, in addition to the funds in the Uniswap pool.
In response to the audits, the team introduced a 12 hour time lock that should give enough advanced warning to users if any foul play is detected — but that requires constant community vigilance.
The project is currently running a classical yield farm similar to many of the "food coins." Users can commit Ether (ETH), Wrapped Bitcoin (BTC) and other assets, but the highest FARM yield can be found by submitting FARM tokens themselves, without necessarily requiring the additional layer of abstraction of Uniswap pool tokens. Such a circular dependency is characteristic of many crypto Ponzi schemes.
The team is completely anonymous, though the project succeeded in attracting a relatively sizable community and has been involved in the community by doling out grants.
While nothing would suggest malicious intentions for now, the project is strongly centralized and prospective farmers should be aware that they are trusting an anonymous group of developers to resist the temptation to run off with their money, similarly to how the community initially trusted SushiSwap's founder.